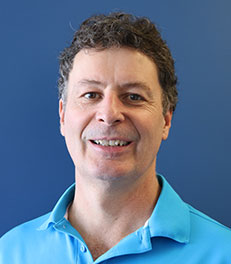 Dr. Stephen G. Jones
Chiropractic Came Natural For Me
Dr. Stephen Jones was born and raised in the Calgary area. Involved in competitive sports from a young age, he developed a keen interest in exercise and peak performance. Chiropractic was a natural fit for a young athlete recovering from sports injuries and its philosophy of drugless, hands-on, active care resonated with him.
Dr. Jones states, "Chiropractic changed my life and became a calling for me."
Dr. Jones graduated with honours in 1988 from Western States Chiropractic College and he has continued his love of learning, obtaining the following certifications:
Certified member of the Canadian College of Orthopedics
Certified Chiropractic Sports Practitioner
Certified Active Release Therapy Provider
Certified Graston Therapy Provider
Certified WCB Provider
Numerous courses in Motor Vehicle Accident Rehabilitation
Activator Method Instrument Adjusting
Recognized by the CCA with a 25 Year Service Award
Quality Chiropractic For Midnapore
Dr. Jones opened Midnapore Chiropractic Clinic in 1991 and has proudly seen it grow to be one of the most respected complementary alternative health clinics in Midnapore and Calgary. Dr. Jones supports each individual in their own unique quest for optimal health. He combines modern and traditional natural treatments, including spinal and nervous system adjusting, exercise, nutrition, stress/relaxation techniques and prevention.
Dr. Jones treats newborns to seniors, believing chiropractic is a key component to health.
Dr. Jones stays active with his wife, four children and acreage living. He is an active member of the Okotoks and south Calgary communities.
Dr. Stephen Jones' Office Hours
Monday  7:00am – 1:00pm, 3:00pm – 6:00pm
Tuesday  1:00pm – 7:00pm
Wednesday  7:00am – 1:00pm
Thursday  1:00pm – 7:00pm
Friday  7:00am – 1:00pm
Online booking is available for New and existing patients. New patients for WCB and Motor Vehicle Injuries must call for initial appointment. Please contact our office at 403-254-9177 with any questions.