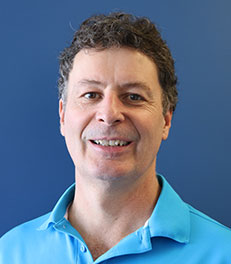 Dr. Stephen G. Jones
Chiropractic Came Natural For Me
Dr. Stephen Jones was born and raised in the Calgary area. Involved in competitive sports from a young age, he developed a keen interest in exercise and peak performance. Chiropractic was a natural fit for a young athlete recovering from sports injuries and its philosophy of drugless, hands-on, active care resonated with him.
Dr. Jones states, "Chiropractic changed my life and became a calling for me."
Dr. Jones graduated with honours in 1988 from Western States Chiropractic College and he has continued his love of learning, obtaining the following certifications:
Certified member of the Canadian College of Orthopedics
Certified Chiropractic Sports Practitioner
Certified Active Release Therapy Provider
Certified Graston Therapy Provider
Certified WCB Provider
Numerous courses in Motor Vehicle Accident Rehabilitation
Activator Method Instrument Adjusting
Recognized by the CCA with a 25 Year Service Award
Quality Chiropractic For Midnapore
Dr. Jones opened Midnapore Chiropractic Clinic in 1991 and has proudly seen it grow to be one of the most respected complementary alternative health clinics in Midnapore and Calgary. Dr. Jones supports each individual in their own unique quest for optimal health. He combines modern and traditional natural treatments, including spinal and nervous system adjusting, exercise, nutrition, stress/relaxation techniques and prevention.
Dr. Jones treats newborns to seniors, believing chiropractic is key component to health.
Dr. Jones stays active with his wife, four children and acreage living. He is an active member of the Okotoks and south Calgary communities.
Sound interesting? Please contact our Midnapore Calgary office to make an appointment today.
Dr. Stephen Jones' Office Hours
Monday  7:00am – 1:00pm, 3:00pm – 6:00pm
Tuesday  1:00pm – 7:00pm
Wednesday  7:00am – 1:00pm
Thursday  1:00pm – 7:00pm
Friday  7:00am – 1:00pm
Please contact our office at 403-254-9177 to schedule a New Patient Appointment
Dr. Baxter Hickey DC
Midnapore Health Centre is excited to introduce Dr. Baxter Hickey! He graduated from the Canadian Memorial Chiropractic College in Toronto, Ontario with Magna Cum Laude (2019).
He began his chiropractic journey as a patient at Midnapore Health Centre back in 2011, when he was competing as a high-level Latin ballroom dancer. Since that time, his passion for health and wellness has flourished, which led him on his path to becoming a chiropractor himself.
Dr. Baxter has returned back home to Calgary and he is very excited to begin to serve his patients and his community. Being a long-time resident of Southern Calgary, working at Midnapore Health Centre was a perfect match.
Dr. Baxter has taken many courses and seminars throughout his educational career to best care for his patients. In addition to his course load at CMCC, he also completed educational seminars and training in Activator, Thompson, muscle release therapy, instrument-assisted soft tissue therapy, and orthotic casting. Additionally, he has also taken Webster's technique, which is tailored for the treatment and management of pregnant patients. He has completed training in many newborn, infant, and paediatric adjusting courses and even spent a portion of his clinical internship working at a paediatric wellness clinic before graduation. He will incorporate rehabilitation of the body and proper nutritional counselling, in addition to mindfulness and meditative practices for stress management. From newborns to seniors, Dr. Baxter is fully prepared to serve your needs, whether it's pain relief or general wellness.
On his off-time, Dr. Baxter enjoys a healthy and active lifestyle, with regular resistance training at the gym, hiking in the Rocky Mountains, and walking to complete 400% of his exercise goal on his Apple Watch. During the winter, you can find him up in the mountains skiing. He is also well-traveled, doing many backpacking trips around the world such as the Inca Trail, West Coast Trail, and Nootka Trail. Recently, he has returned from Portugal, Croatia, Italy, and France.
Dr. Baxter's Office Hours
Monday: Off
Tuesday: 8:30am – 1pm & 3pm – 7pm
Wednesday: 2pm – 6pm
Thursday: 8:30am – 1pm & 3pm – 7pm
Friday: 1pm – 5pm
Saturday: 9am – 1pm
Instagram @drbhickeychiro